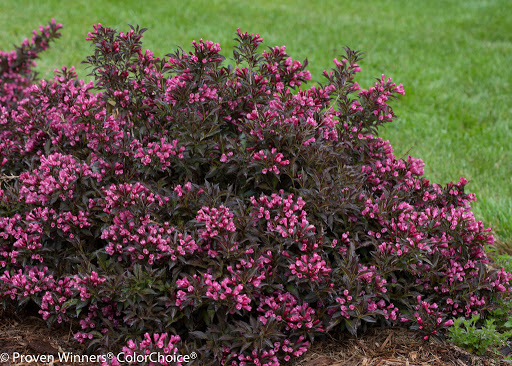 PLANT HEIGHT/WIDTH: 2-3' Tall and Wide.
LIGHT REQUIREMENTS: Full Sun, Part Sun
HARDINESS/ZONE: 4-8
BLOOM/FEATURES: Pink Blooms Late Spring into Summer. Rated as Deer Resistant.
EVERGREEN/DECIDUOUS: Deciduous
The Dark Horse Weigela is a compact, dark-leaved, pink-flowered weigela. The Dark Horse Weigela is a dense, rounded, deciduous shrub that typically grows to only 2-3' tall and wide. It features profuse, funnel-shaped, pink flowers that appear singly or in clusters late Spring into Summer. The trumpet-like flowers are adored by hummingbirds and butterflies!