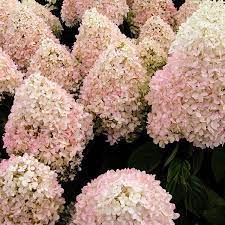 PLANT HEIGHT/WIDTH: 4-6' Tall and Wide (on the graft)
LIGHT REQUIREMENTS: Sun, Part Sun
HARDINESS/ZONE: 4-7
BLOOM/FEATURES: Mature to White, Then Turns Shades of Pink. Blooms Late Spring into Fall.
EVERGREEN/DECIDUOUS: Deciduous
The Sweet Summer Hydrangea is a mid-sized Hydrangea with dense flowers that remain until fall. Green flower panicles mature to white, then turn shades of pink as the weather cools, giving a charming two-toned effect.